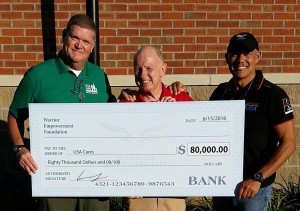 LOUISVILLE, Ky. (WDRB) — A Louisville-based foundation that supports injured veterans and their families has donated more than $100,000 to area non-profit organizations, according to a news release.
The Warrior Empowerment Foundation raised the bulk of the funds during the organization's Tribute to Troops, held each October.
"We want to raise funds and community awareness for the ongoing challenges faced by the brave warriors of the U.S. military," said Michael Greenwell, founder and CEO of the Warrior Empowerment Foundation. "We believe it's an honor and privilege to serve those who have so bravely served us."
Below is a list of organizations that Warrior Empowerment Foundation recently donated to, according to the news release:
USA Cares
412th Civil Affairs Battalion Alumni Fund
Coalition for the Homeless Veteran Project
Volunteers of America
Salvation Army Transition Housing for Veterans
St. Vincent DePaul
The organization also donated $500 to assist in purchasing toys for children of veterans.
New's Article HERE
Copyright 2016 by WDRB News. All rights reserved.
Posted: Jun 28, 2016 3:38 PM EDTUpdated: Jun 28, 2016 3:38 PM EDT